Steam Sterilizer - Z-COLOR
Parameters
Description
Service
FAQ
Parameters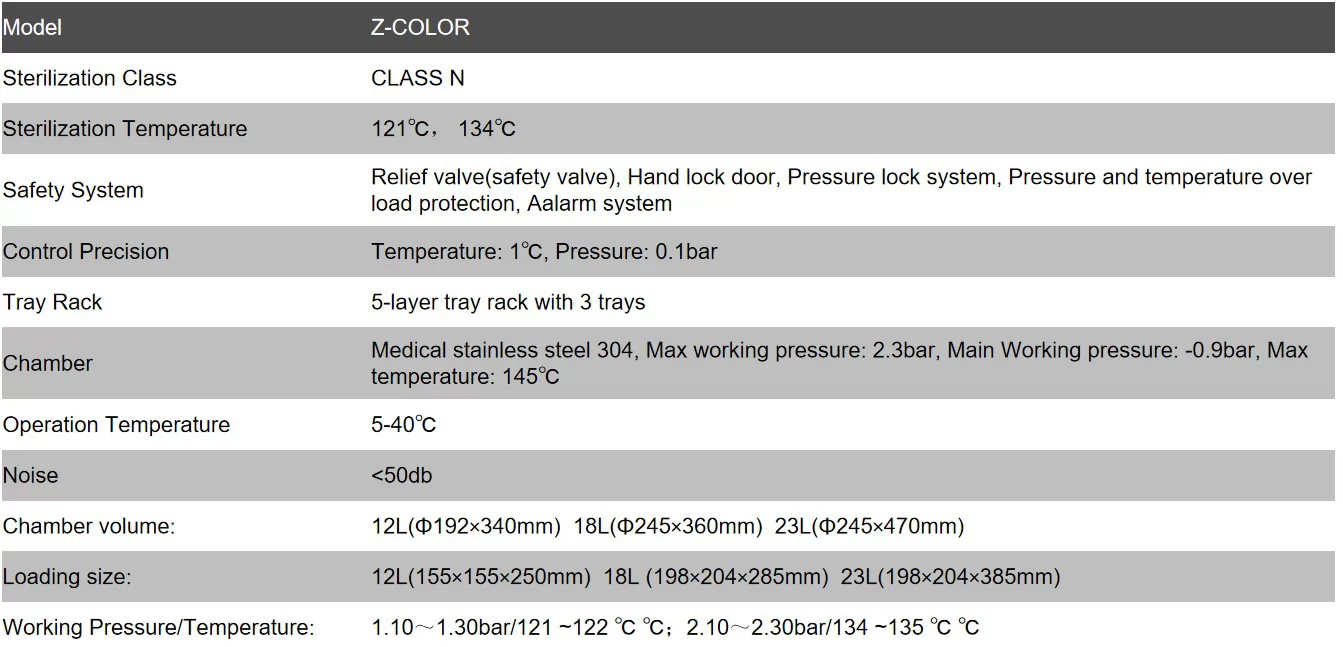 Model

Application Field
Sterilization should not be a tedious thing, to face dental clinics, beauty salons, tattoo rooms, and other basic sterilization occasions, a compact Z-COLOR shows her talents, everything is made simple and ease.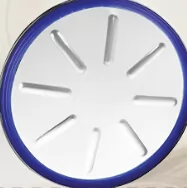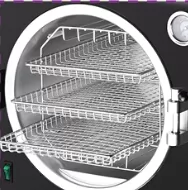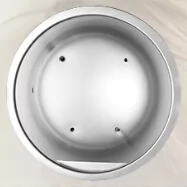 Use The Steps And Description
1. Open the door and put 800ml-1000ml distilled water into bottom of chamber
2. Place steam exhaust pipe into water, and ensure the air exhausting switch is closed
3. Put instruments on trays, and load trays into chamber
4. Close and lock the door by turning the handle clockwise
5. Switch on, choose the working temperature to start the sterilizer cycle
6. The buzzer will be alarming when cycle completed
7. Turn on the air exhausting switch and release the pressure till go down to 0 Mpa
8. Wait for couple of minutes and take out sterilized instruments

Adopting European N standard, with drying functions, it can be used for A-type hollow instruments and solid instruments. Thermodynamic pressure guarantees elimination of cold air from the cavity and makes sure that reaches the optimal effect of sterilization.European N standard
SONZ after sales service introduction
Autoclave and dental delivery unit are in two years warranty from shipment, during the period, SONZ will provide complete service in free, if there is any problems occur, free spare parts and service guide will been sent after confirm.
The warranty period of accessories products is one year.
SONZ service introduction
The main operation model of Sonz is brand customize. We do OEM for our customers: design, develop, and produce the machines follow customers' requests.
Sonz offer variety of dental products like steam sterilizer (autoclave Class B, Class N) and assistant devices, complete Dental unit, Oil-less air compressor, and suction machine etc. Basic covers the required equipment and supplies for dental hospital and clinic.
Sonz's sales and service network covers whole China market and exported to Europe, America, Middle East and other countries. the growth rate of 30% increased year by year.
Sonz improving technology of products all the time to catch the step of customers' requests, and stand as top position of dental industry.
1. Do you have any certificates for your equipment?
Our factory was approved CE and ISO13485 certificates by TUV.
2. How many machines do you exported each year?
We exported autoclave around 6000pcs, and dental chair 1000pcs each year.
3. Where is your main market?
We do export to all over the word, especially Europe such as Holland, Poland, Spain, Russia; Middle east such as Turkey, Iran, Iraq, Saudi Arab, UAE; Asia such India, Pakistan, Sri Lanka; South America such as Mexico, Chile;
4. How do I order from you?
We will make quotation after you send your purchase plan (including product name, model and quantity). After your order confirmation, we will make preform invoice for payment transfer. Goods delivery details will also be informed accordingly.
5. Do you supply OEM service?
Yes, we can supply OEM service for dental unit and autoclave.
Leave Messages
Please Feel free to give your inquiry in the form below.We will reply you in 24 hours.
Please Feel free to give your inquiry in the form below.We will reply you in 24 hours.

SKYPE: