Dental Chair - Z-CHAIR 300
Parameters
Description
Service
FAQ
Parameters: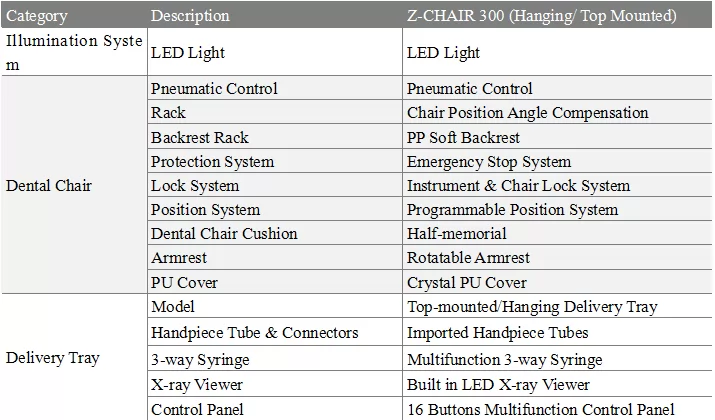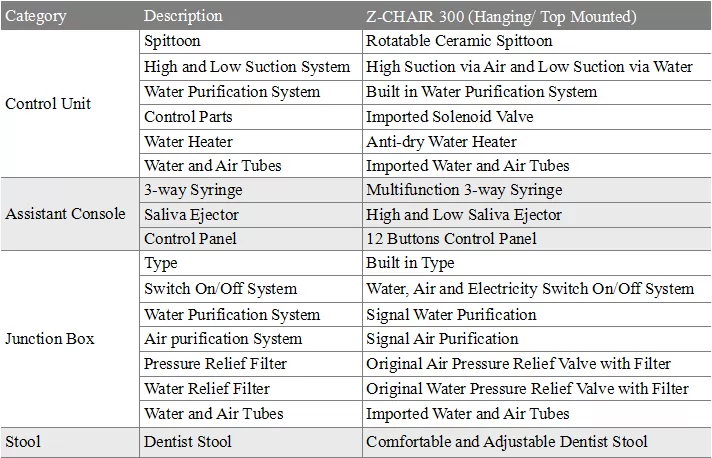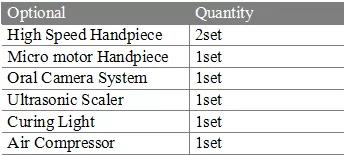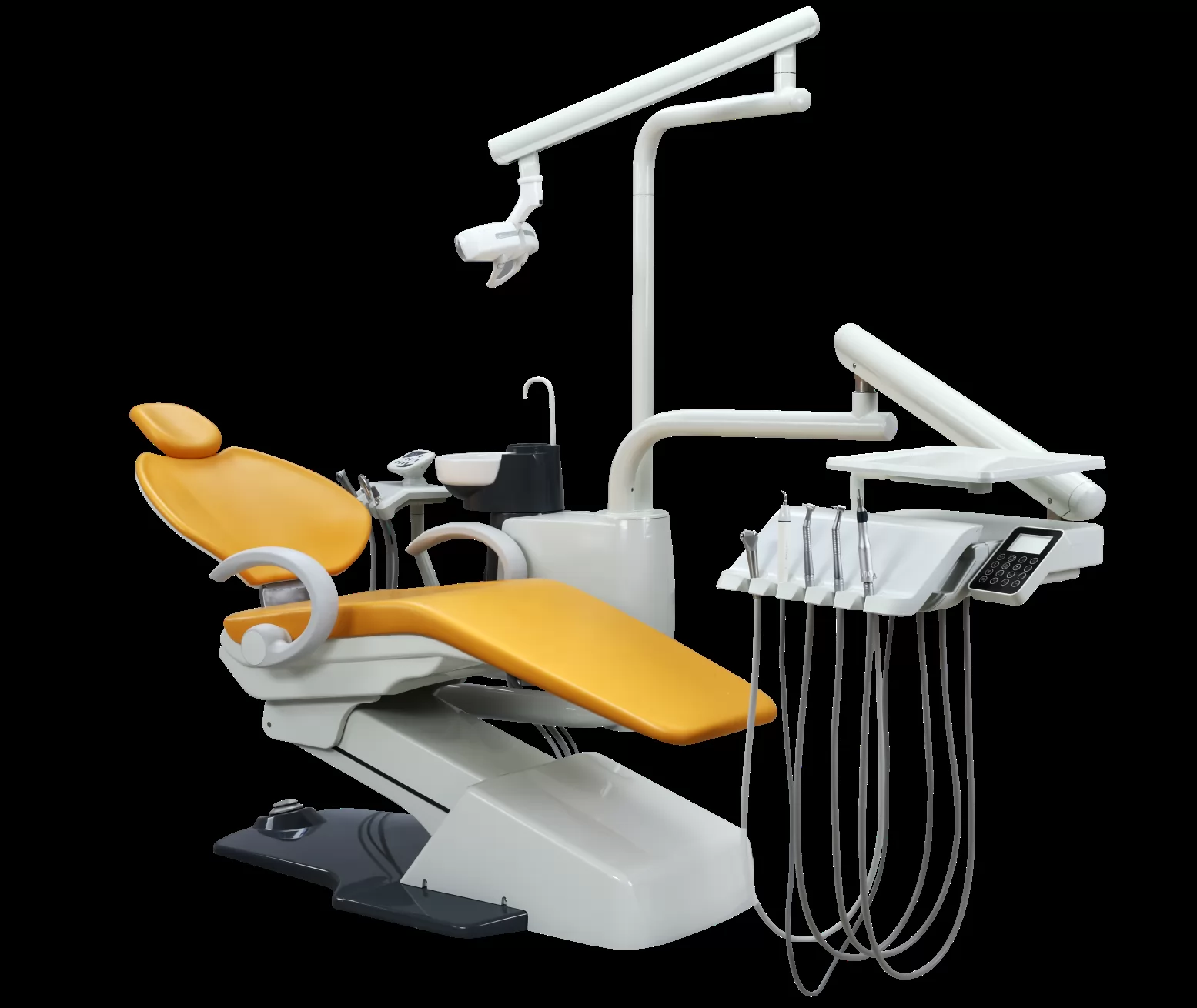 TOP MOUNTED DELIVERY TRAY
New top-mounted delivery tray easier to operate, hardly any drawing feel;
Avoid pollution from touching floor, and tripping foot during operation;
Build-in x-ray viewer to check films easily;
Capable to equip F/O tubes for micro-motor and turbine.

5 POSITION HANGING DELIVERY TRAY
New 5-position tray, 55 degree angle more comfortable to handle instruments;
Wider tray to place more objects at ease, functions of positioning;
Build-in x-ray viewer to check films easily;
Capable to equip F/O tubes for micro-motor and turbine.
SUPER-LOW CUSHION POSITION
Minimum distance from chair to the ground is only 40 cm, even children can easily move up and down on his/her own, safe and reliable.

FASHIONABLE CONTRAST COLOR
Integrated with fashionable element, streamlined design in classical collocation of white and grey, let your clinic lively;
Quality electromagnetic valve, dry heating preventative boiler, built-in independent water purification system;
US made water/air pipeline, good elasticity, durable and anticorrosive.

ELECTRICAL DRIVING SYSTEM
Smooth lifting speed, low noise, make the whole process of driving comfortable and secured.
PRECISION CASTING ALUMINUM ALLOY INTEGRAL STRUCTURE
The technology of high quality precision casting be produced with good material;
Aluminum alloy material combine with casting technology ensure the carrying capacity of machine.

LED LIGHT
Irradiation area 160mm x 80mm, light concentrated;
Highlight LED dental lamp, light intensity up to 43000 lux;
Color temperature 4000 k, close to natural light, effectively relieve fatigue caused by long time operation.

ROTATABLE CERAMIC SPITTOON
Classical and simple, easy to clean;
Improved water channel design, prevent water splash.
CONTROL SYSTEM
12 buttons multifunction control panel;
2 sets, a total of 6 programmable position system;
Double bottom control system, designed to meet various control demand at any time;
Independent assistant system, equipped with 12 buttons;
Control panel, high and low saliva system.

EMERGENCY STOP SYSTEM
When driving motor is blocked by something, reset function start to avoid injuring dentists.
POSITION MECHANICAL LINKAGE
Backrest and sitting cushion has 10 degree angle compensation function, enhance patient comfort.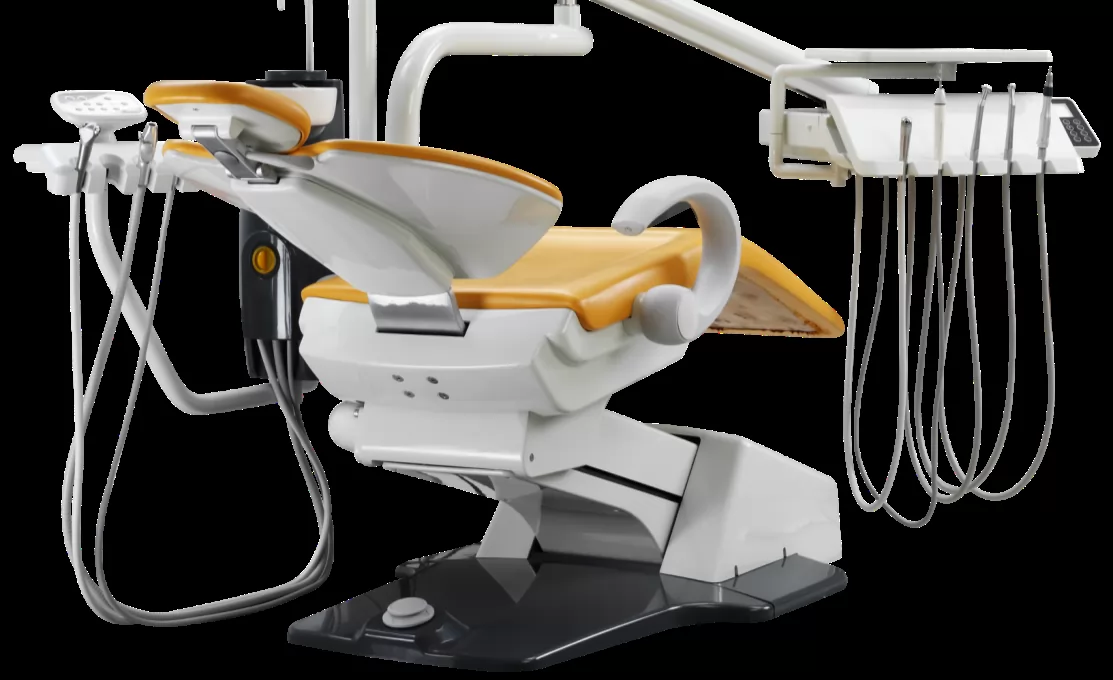 COMPOSITE FIBER MEMORIAL CUSHION
Half-memorial material, comfortable and soft, increase coziness for patient during treatment;
With the air permeability and wear resistance, smooth surface for easy cleaning.


Z-CHAIR 300M (Mobile Cart)
Split design, fully use available space;
Independent mobile delivery tray, reduce the interference of the unit, move freely.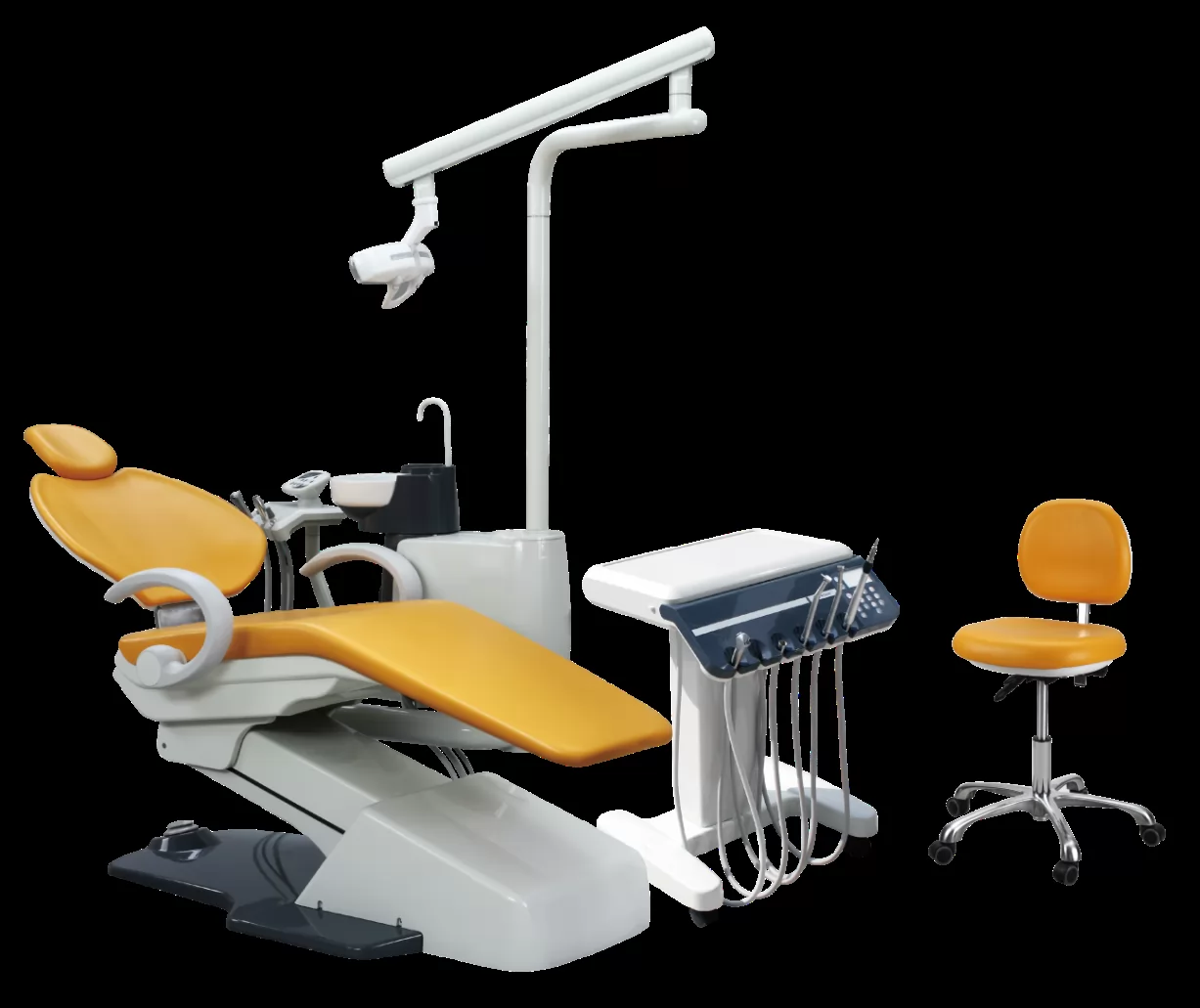 GENUINE LEATHER
Top class leather optional, wear-resistant, comfortable touch, elegant and noble design.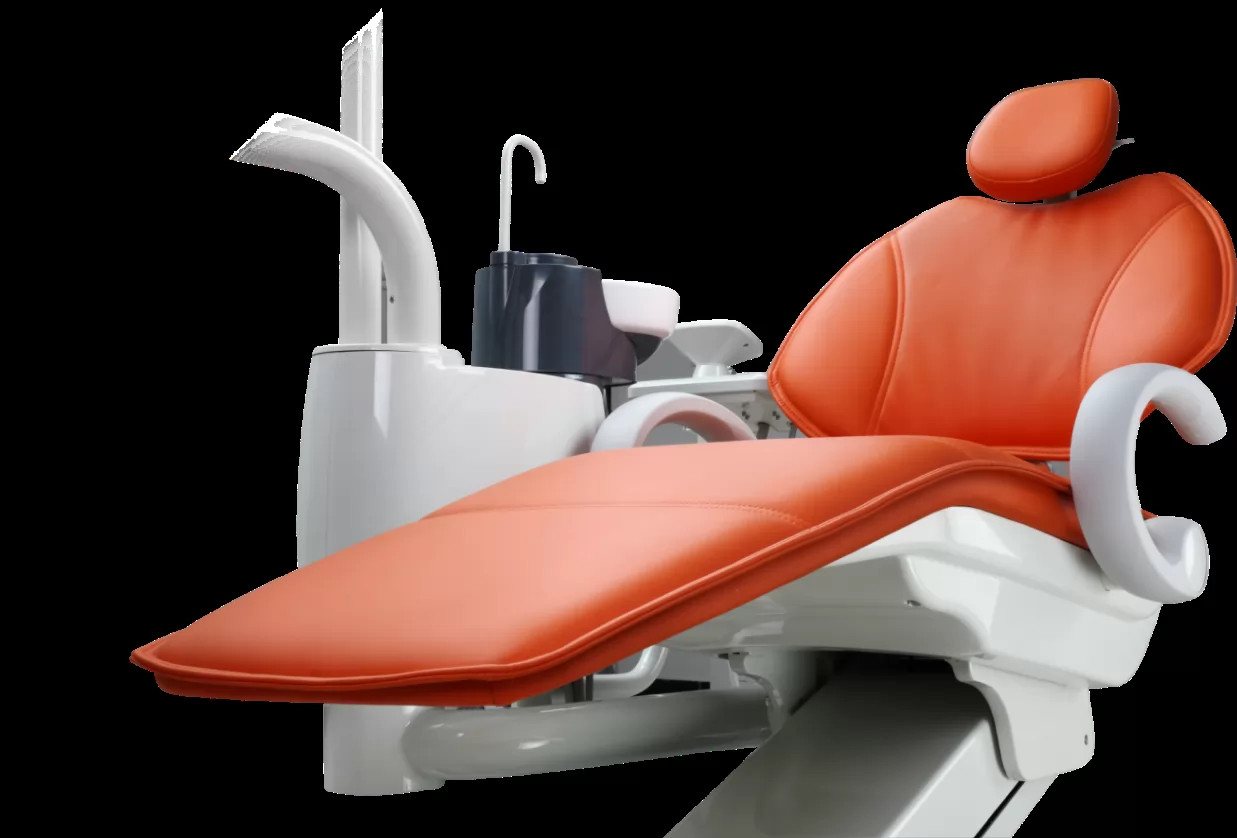 FARO EDI LIGHT
Irradiation area 180mm x 60mm, light concentrated;
Highlight EDI dental lamp, light intensity up to 35000 lux;
Fixed or removable and autoclavable handles.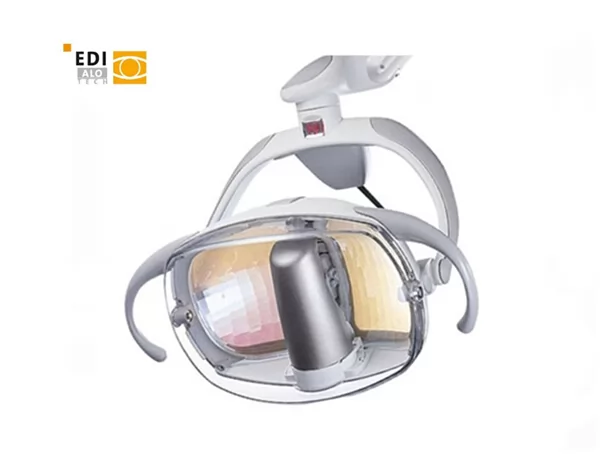 SONZ after sales service introduction
Autoclave and dental delivery unit are in two years warranty from shipment, during the period, SONZ will provide complete service in free, if there is any problems occur, free spare parts and service guide will been sent after confirm.
The warranty period of accessories products is one year.
SONZ service introduction
The main operation model of Sonz is brand customize. We do OEM for our customers: design, develop, and produce the machines follow customers' requests.
Sonz offer variety of dental products like steam sterilizer (autoclave Class B, Class N) and assistant devices, complete Dental unit, Oil-less air compressor, and suction machine etc. Basic covers the required equipment and supplies for dental hospital and clinic.
Sonz's sales and service network covers whole China market and exported to Europe, America, Middle East and other countries. the growth rate of 30% increased year by year.
Sonz improving technology of products all the time to catch the step of customers' requests, and stand as top position of dental industry.
1.Do you have any certificates for your equipment?
Our factory was approved CE and ISO13485 certificates by TUV.
2. How many machines do you exported each year?
We exported autoclave around 6000pcs, and dental chair 1000pcs each year.
3. Where is your main market?
We do export to all over the word, especially Europe such as Holland, Poland, Spain, Russia; Middle east such as Turkey, Iran, Iraq, Saudi Arab, UAE; Asia such India, Pakistan, Sri Lanka; South America such as Mexico, Chile;
4. How do I order from you?
We will make quotation after you send your purchase plan (including product name, model and quantity). After your order confirmation, we will make preform invoice for payment transfer. Goods delivery details will also be informed accordingly.
5. Do you supply OEM service?
Yes, we can supply OEM service for dental unit and autoclave.
Hot keywords:
Dental Chair Supplier, Dental Chair Company, Dental Chair Manufacturer
Leave Messages
Please Feel free to give your inquiry in the form below.We will reply you in 24 hours.
Please Feel free to give your inquiry in the form below.We will reply you in 24 hours.

SKYPE: